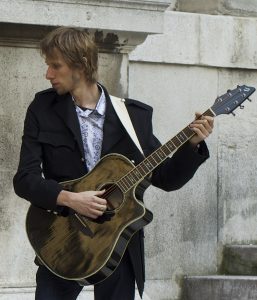 Jaron Chamarel (civil name Christian Nagl, born in 1981) is an Austrian composer and multi-instrumentalist. He discovered his passion for composing and song writing at an early age. His parents, who were musicians themselves, had a great influence on him. They inspired him to learn playing the piano, the guitar and the violin.
Jaron developed a unique and quite unconventional way of interpreting his instruments. His emotional and explorative approach is the inspiration for combining a great variety of genres in his music. Jazz-Funk, Folk, Rock – they all seem to flow into one, including great pieces of dramatic movie sound tracks.
Jaron has worked with numerous bands and ensembles. Either as a founder or a member, he gained significant experience on stage, while constantly expanding his musical horizons. He travelled in his native country of Austria, as well as in Hungary or even Estonia, both playing and composing.
Recently, he has gained attention for his impulsive and rhythmic finger-style play that sets him apart as a distinctive and virtuous guitar player. The style's origins are rooted in Spanish Flamenco, Greek and Irish Folk.
His music has been described as "truly emotional and inspired". Jaron's key to success is reducing the process of making music to three essential human-driven components:
the expression of emotion, creativity and true craftsmanship
He believes that these ingredients should be perceived as a handcraft-process, driven by the heart, curiosity and joy. Since 2001, he has produced 3 CD albums in his own Vienna-based recording studio.
Keyfacts:
Date of Birth:
10. September 1981 in Austria
Recent Projects/Bands:
The Avalon-Project with Karin Leitner (Styria, Vienna, since 2020)
Chris*Oliver (Soloproject since 2014)
Sam Unplugged (Styria, Austria, 2014)
Miss Gurnard (Lower Austria, since 2013)
KCT-Cation (Vienna, since 2014)
Thaller Sisters / Strings in Passion (Vienna, since 2014)
Sternenmann (Guest Musician, since 2014)
Wööt (Estonia, Guest Musician, 2016)
Styxus (former "Lost in Harmony" , Vienna, 2004-2013)
Laudate Deum (Vienna, 2006–2012)
Conspiracy of Music (Vienna, 2003-2016)
Project: Missa Tunika (Vienna, 2005/2006/2019)
Irini (Vienna, 2006-2014)
Divided (Lower Austria, 2007-2013)
Mind the Gap (Vienna, 1998)